WWE legend Michelle McCool has spoken out about the potential of a return to the ring.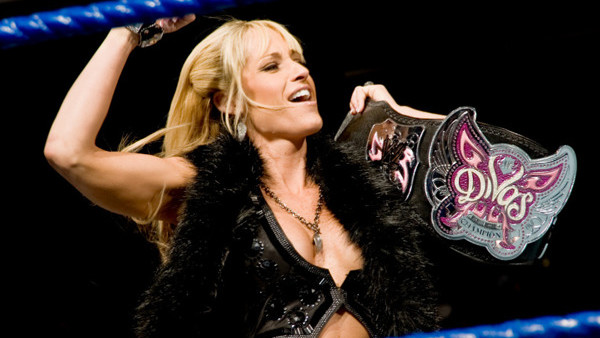 McCool recently took part in an interview with TV Insider, speaking about a number of topics including WWE Network's 'Undertaker: The Last Ride' documentary series as well as her own career.
The former WWE Divas and Women's champion is proud of how far women in the WWE have come in recent years and doesn't rule out a return to the ring.
"The landscape has definitely changed over the last 10 years. The opportunities the girls are being given is amazing. We all wish we had that when we were there. We did our best with what we were given. As far as one more storyline, I always say all they got to do is ask. It's incredibly fun when you have a passion for it. There is nothing like performing in front of live crowd of wrestling fans. There is so much talent on the roster now, you can almost throw a dart and whoever you hit is going to be a good storyline or match. It would be fun. Obviously, my priorities are being a mom and a wife. But never say never." McCool said.
The 40-year-old, who was part of arguably one of the greatest women's tag teams of all time in LayCool, says she is still friends with Layla and wishes the pair could have had tag titles to fight for during their era.
"Layla and I are still wonderful friends. We talk every once in a while. It's one of those relationships where we don't have to talk every day, and when we do, nothing has changed. We pick up right where we left off. I do sure have wished they had the tag team titles when we were a pair or asked us back when they were introduced. You look back, and there aren't many true duos of girls throughout the years. I think LayCool was definitely recognized as a strong pair. If we had those titles to go after and not cut one in half for our own sake, we could have had some fun with it." she said.
McCool said if she is to return, she would love to do so with Layla as part of LayCool. She'd love the opportunity to take on The IIconics and Sasha Banks & Bayley. In singles competition, she'd be interested in mixing it up with the likes of Naomi, Becky Lynch, Charlotte Flair, Nia Jax and Tamina.
"Every time I went back I always wondered why Layla did not get asked. I do not know that. However, I wish LayCool could have come back. I would love to work the IIconics, Sasha [Banks] and Bayley. You have Naomi, who is one of the most phenomenal athletes you will ever come across. I would have loved to do a storyline with her. Obviously, Becky [Lynch]. People ask me all the time about Charlotte [Flair]. There truly is so much talent I can think of. Nia [Jax], Tamina, top to bottom. It's strong. To pick one, I don't know. There is too much to choose from." she stated.
Wrestling fans, would you like to see Michelle McCool make a return to the ring for one last run? Who would you like to see her compete against? Let us know in the comments section below.