WWE Hall of Famer Trish Stratus has looked back on her epic Summerslam 2019 battle against Charlotte Flair.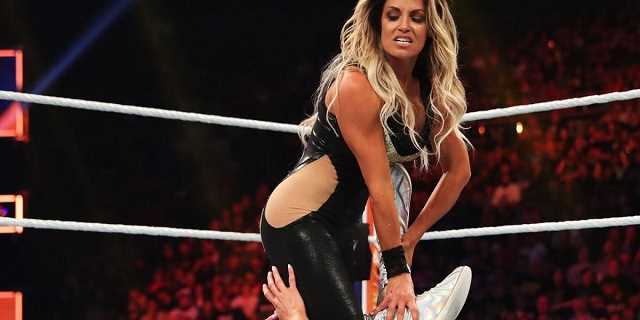 At last year's Summerslam event on August 11, 2019, Trish Stratus took on Charlotte Flair in a battle of generational superstars. The match was highly-acclaimed and received rave reviews from both fans and critics. 44-year-old Stratus was notably competing in her first lengthy singles match since her initial retirement in 2006.
On Thursday, Stratus took to her Instagram to look back on her preparation for the big match. The multiple-time women's champion credited fellow WWE alum Rob Etcheverria, as well as various others, for helping her prepare for the big showdown.
"Reflecting back on #SummerSlam2019, I would be remiss if I didn't shout out to my nocturnal training crew who came out and wrassled with me leading up to the big day.  In fact, before I even agree to step into a WWE ring I call fellow Ron Hutchison alum Rob 'El Fuego' Etcheverria @proringrentals to make sure he's on board to help me shed my ring rust and haul in the crew. Rob loves to take me outside my comfort zone and the new treats you saw during the match came from his brain to my body… thanks for always pushing me – Rob unleashes my inner lucha at times lol. And of course it takes two to tango – couldn't have polished up with out my late night fight partners –  John @therealjohnatlas for your 'relentless' wisdom and real talk, Volino @medievalwarrior_c.I.volino – for taking everything! And Rino @rinopalumbo23 – for taking everything Volino wouldn't haha. Alexia  @alexxiaanicole and Jody @jodythreat you girls are so badass thanks for being one of the boys with me! And special shoutout to my boy Anthony for use of his kickass facility at @905athletics , as seen in my WWE24 special. Photos are from sports photographer extraordinaire @stevetsn – thanks for setting up this sesh for these sweet snaps! Peep my stories or click the link in my bio to see the rest of the training photos!"
Stratus also released several never-before-seen photos from her training sessions for the legendary battle. Take a look below.