WWE Hall of Famer Alundra Blayze is no doubt a legend of the professional wrestling industry and during the early to mid-1990s, paved the way for the WWE Women's Division of today.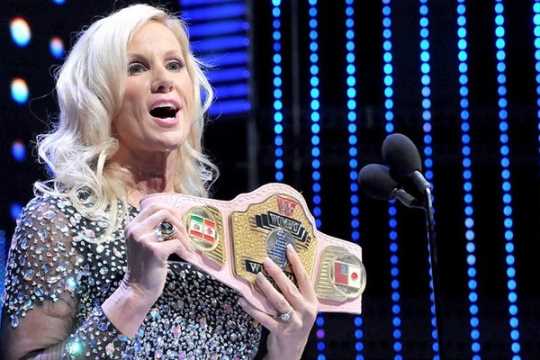 Following WWE women's champion Rockin' Robin's departure from the organization back in 1990, the belt was deactivated signaling the end of an exciting era which featured the likes of Wendi Richter, Leilani Kai, Judy Martin, Velvet McIntyre, The Jumping Bomb Angels, The Fabulous Moolah, Sensational Sherri and many more.

The WWE would decide to bring back the title in 1993, bringing in Alundra Blayze to be the forefront of a brand new division. Blayze would go on to become a huge star with the organization, holding the belt on three occasions whilst making history and displaying women's wrestling at its finest for fans.
In 2015 the WWE awarded Blayze with the ultimate honor in professional wrestling, inducting her into the WWE Hall of Fame.
Modern-day wrestling fans will no doubt be familiar with Blayze's work, thanks to her HOF induction, as well as her appearances on TV throughout the years including at the historic Evolution 2018 event, as well as last year's RAW Reunion show. However, there are also other women who performed during the early 1990s, and Women's PW puts a spotlight on them during "Women's Evolution Week".
---
Heidi Lee Morgan
Heidi Lee Morgan was involved in the first women's title program of WWE's post-80s era. She, along with Alundra Blayze, would advance to the finals of a tournament to battle for the vacant WWE women's championship. The pair would battle on an episode of 'WWF: All American Wrestling' with Blayze scoring the win. Both women would go on to compete against each other again on TV and at several house shows. Lee Morgan would eventually attempt to spoil the debut of highly-acclaimed Japanese sensation Bull Nakano but was unsuccessful. She would then go on to team with former foe Alundra Blayze against Bull Nakano and Luna Vachon before leaving the company.

Lee Morgan had already had a historic and decorated wrestling career prior to signing with the WWE. Performing for organizations such as NWA, WCW and NWA. She is a former VWA, WWWA and IWCCW women's champion, and along with Misty Blue Simmes, was a former LPWA tag team champion. She battled Richter, the NWF Women's Champion, in a first-ever women's steel cage match in May 1987.

Lee Morgan would compete in her final match at the historic NWA 2000 event.
Take a look back at Heidi Lee Morgan's battle against Alundra Blayze below.
---
Luna Vachon
Luna Vachon was a history-making woman who performed for the WWE through the 1990s and early 2000s, with a brief hiatus in between. In this time she performed as both a manager and a wrestler. In 1994 she was the first woman to ever be included in a WWE Video Game.
Vachon notably feuded with Sensational Sherri in 1993, just before the latter left the company. When the WWE re-introduced the WWE Women's Title with Alundra Blayze, Vachon immediately set her sights on the belt and competed in numerous matches against Blayze. She would eventually team up with Bull Nakano, before leaving the company.

Vachon would return to the WWE during the late 1990s for a lengthier stint in which she notably feuded with the likes of Sable, Jacqueline, and Ivory.
Vachon sadly passed away on August 27, 2010. Her legacy still lives on. In 2019, Luna Vachon was inducted into the WWE Hall of Fame as part of the "Legacy" wing.
Take a look back at one of Luna Vachon's battles with Alundra Blayze in the video below.
---
Bull Nakano
Bull Nakano feuded with Alundra in what is without a doubt one of the greatest and most highly-acclaimed feuds in women's wrestling history.

Nakano joined the WWE in 1994, debuting as an associate to Luna Vachon. She would go on to unsuccessfully challenge Alundra Blayze for the WWE Women's Championship at the Summerslam '94 event but would finally capture the belt on November 20, 1994 in Tokyo at the Big Egg Wrestling Universe event. The Japanese powerhouse would hold on to the belt for five months before losing it to Blayze on the April 3, 1995 episode of RAW.

This wasn't Nakano's first stint with the WWE. She was briefly part of the organization during the 1980's as part of a monster heel tag team with Dump Matsumota named 'The Devils of Japan', competing against the likes of Linda Gonzalez, Dawn Marie Johnston and former WWE Women's Champion, Velvet McIntyre.

Nakano's success in professional wrestling is not limited to her work with the WWE. The 52-year-old enjoyed a fourteen-year career in professional wrestling, competing all across Japan and most notably winning multiple titles with AJW. She was also notably the first ever CMLL women's champion. In 1998, Nakano was inducted into the AJW Hall of Fame.

To this day fans and even Blayze herself have campaigned for Nakano to be inducted into the WWE Hall of Fame.
Take a look back at Nakano's WWE Women's Championship victory in the video below.
---
Bertha Faye
Bertha Faye burst into the WWE in shocking fashion, laying out Alundra Blayze on an episode of RAW, just after Blayze had successfully recaptured the WWE Women's Title from Bull Nakano. Faye would feud with Blayze and eventually won the title at the Summerslam 1995 event.
After Faye dropped the title back to Blayze, she would remain with the company for a short while and notably competed in the historic second-ever women's survivor series match at the 1995 event, being part of the winning team.
Faye certainly enjoyed her time of success whilst in the WWE, however, she was equally, if not more, successful outside the organization. Under the ring name Rhonda Sing, she won world championships with the likes of AJW, WWA, and WWC. She also had a stint in WCW.
On July 27, 2001, Faye died from a heart attack at the age of 40. Her legacy still lives on in the world of professional wrestling.
Take a look back at Bertha Faye's WWE Women's Championship win at SummerSlam 1995 in the video below.
---
Aja Kong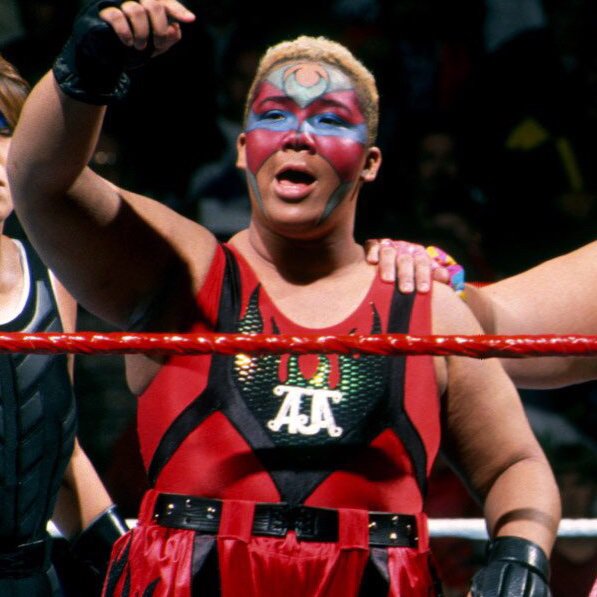 Following Blayze's program with Bertha Faye, WWE would bring in several new women in an attempt to rejuvenate the division. Bringing in some of Japan's top talent, including Aja Kong.

Aja Kong was being set up as the next title challenger and at Survivor Series 1995 was the sole survivor after she pinned the then WWE women's champ, Alundra Blayze. She would go on to defeat Blayze in tag team action and pick up a win over Chaparita Asari before the WWE disbanded of their division.
Kong is considered by most knowledgable wrestling fans as a legend of the business. In 2006 she was inducted into the Wrestling Observer Newsletter Hall of Fame. She still performs as a wrestler to this day, 34 years after her professional debut in AJW, and is currently a member of the AEW roster but is on a hiatus due to injury.
Take a look back at Aja Kong's destruction of Chaparita Asari on an episode of RAW back in 1995.
---
Lioness Asuka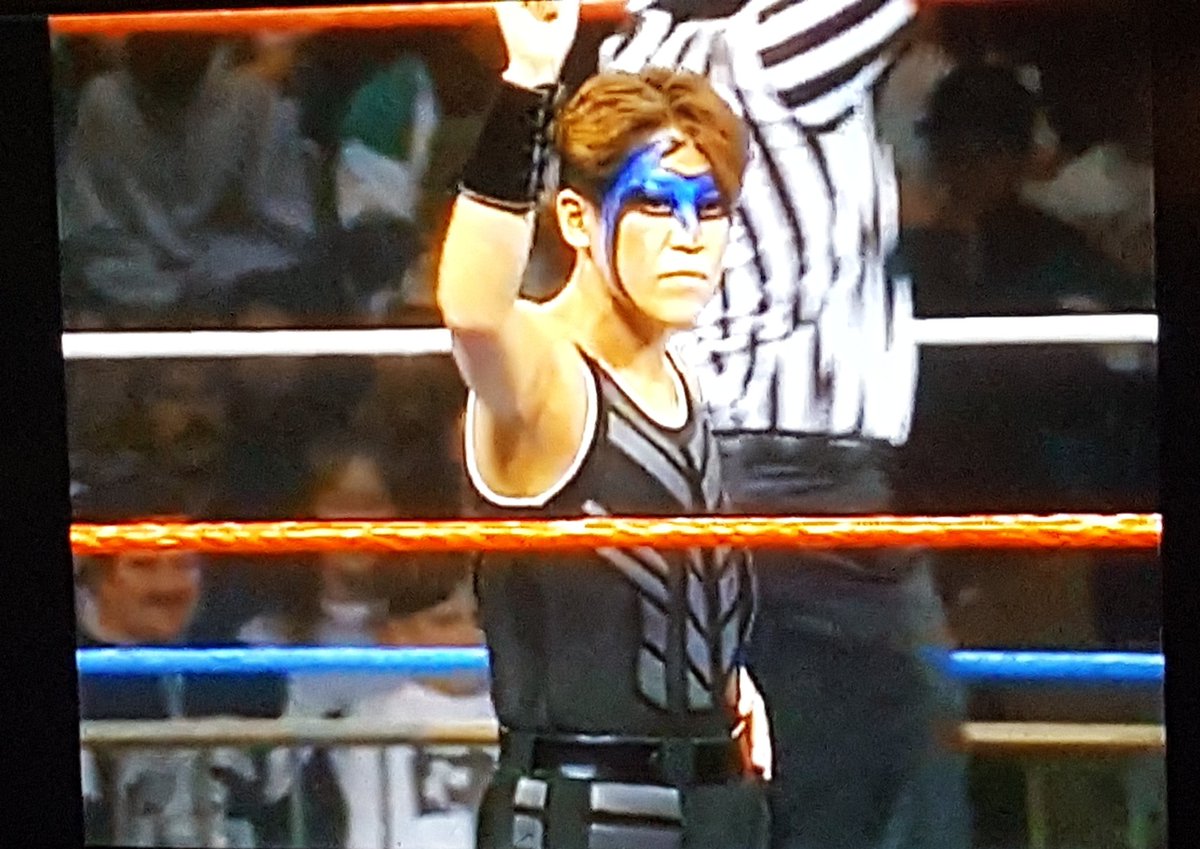 Asuka was the last person to challenge Alundra Blayze for the title before WWE deactivated the division. Making her debut at Survivor Series 1995, part of the winning team. Took on Blayze during an episode of Superstars. The WWE women's division was deactivated soon after.
Asuka had been a part of the WWE from the previous era in the 1980s. As part of The Crush Gals, along with Chigusa Nagayo went undefeated with the WWE, picking up wins over teams which included the likes of Leilani Kai, Judy Martin, and Black Venus. The Crush Gals were a phenomenon in Japan, multiple titles, top ten singles, and a fanfare-like no other. Lioness Asuka is without a doubt a legend of the sport and deserves recognition for her contributions to the business.
Take a look back at the time Lioness Asuka challenged Alundra Blayze for the WWE Women's Championship.
---
Kyoko Inoue
After unsuccessfully challenging for the WWE women's championship in 1994 and 1995, Inoue would eventually align with Blayze and represented her team at the Survivor Series 1995 event. She would go on to team up with Blayze in a losing effort against Aja Kong and Tomoko Watanabe on RAW.
Whilst Inoue's WWE stint may have been brief, she certainly made an impact in the world of professional wrestling. A 32-year career and counting, Inoue has won world titles with the likes of AJW, WEW, and most recently her very own professional wrestling promotion, Pro Wrestling Diana. Although she still competes in the ring, she has shifted her focus to coaching the younger talent and earlier this year her protegee, Sareee, was signed to the WWE.
Take a look back at the time Kyoko Inoue challenged Bull Nakano for the WWE Women's Championship.
---
Whilst these seven women certainly paved the way for female performers during the early 1990s, there were also many others including Tomoko Watanabe, Chaparita Asari, and Sakie Hasegawa. Women's PW looks to highlight all these women in the near future.
Wrestling fans, who were your favorite WWE female superstars from the 1990s? Let us know in the comments section below.