It has been exactly nine years today that WWE Legend Kelly Kelly won the Divas Championship.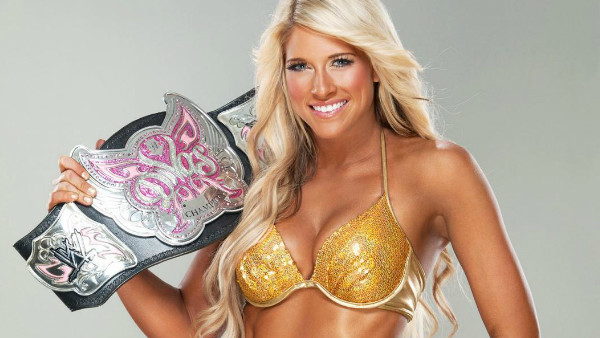 Kelly is without a doubt one of the standout performers of the WWE Divas Era, a fan favorite who quite often would get amongst the best reaction of the night from the crowds. The blonde bombshell debuted at ECW in 2006 as a dancer with zero wrestling experience. Fans watched as Kelly grew up, worked hard and mastered her craft. In 2011 her hard work finally paid off when she defeated Brie Bella to capture the WWE Divas Championship.
It's very fitting that Kelly won her Divas Championship on a 'Power To The People' themed edition of RAW, an episode in which fan participation was key. Kelly was included in a poll along with Beth Phoenix and Eve Torres, with fans deciding it was Kelly who they wanted to see step up and fight for the belt.
Kelly Kelly is without a doubt one of the most prolific female WWE superstars of the late 2000's and early 2010's. A former Divas Champion and Slammy Award winner, the 33-year-old competed in three Wrestlemania matches during her run with the company. She also defended her Divas Championship against Beth Phoenix at the marquee Summerslam event in 2011.

The 33-year-old has enjoyed a lot of success since her departure from full-time competition, starring in hit reality show 'Wags', as well as appearances in various other film and TV projects including the recent 'Disturbing the Peace' movie.

The WWE legend is still recognized by the organization for her accomplishments and has made a number of special appearances over the years, including the 2018 and 2020 women's Royal Rumble matches, as well as the historic Evolution 2018 pay-per-view.

Last year she returned to the WWE during a special 'reunion' episode of Monday Night RAW, capturing the WWE 24/7 championship before losing it to Candice Michelle later on in the night.
Kelly enjoyed a lot of great moments during her WWE career, however one of her most highly-acclaimed series of matches were those against WWE Hall of Famer Beth Phoenix. Take a look back at Kelly's victory over Beth Phoenix at Summerslam 2011 below.