Former WWE superstar Mad Maxine has taken part in a rare tell-all interview about her professional wrestling career.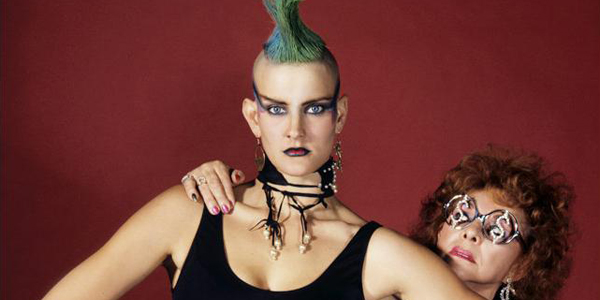 Mad Maxine, real name Jeannine Mjoseth, competed in the WWE during the 1980s as a 6 foot 4 monster heel who was managed by The Fabulous Moolah. She was reported to have been brought in as a high-profile challenger to the then WWE Women's Champion, Wendi Richter. The menacing figure was destined for superstardom, having immediately had merchandise made of her and even appearing in wrestling cartoons. She eventually left the company before a storyline with Wendi Richter could begin due to not being happy with the percentage of her money that Moolah was receiving.
35 years since her WWE exit, Maxine recently took part in a rare tell-all interview with BBG Wrestling. The wrestling legend opened up about her career, as well as speaking about her new novel "The Chronicles of Mad Maxine".
Take a look at highlights from the interview below, as transcribed by Pro Wrestling Stories.
---
On how she came up with the Mad Maxine character:
"The way I found the character I wanted to do is that I was dating a guy who was really into comic books, and he had an X-Men comic. Back then, the character Storm was African American, with a white flowing mohawk, she wore kind of biker gear, and I thought that was just so cool. That was what I modeled it on."
On proposed Wendi Richter rivalry:
Moolah spoke to me about possibly being her secret weapon against Wendi, but that didn't happen because I left.
Feelings before going out to wrestle:
"My knees were shaking, and I hyperventilated. When you're that scared and go into the ring, you're terrified with thousands of people yelling. Your brain can just go offline! It's amazing, and it's a credit to the women I was wrestling that I was able to kind of get through a match. It took me quite a long time to feel comfortable and enjoy it. That's the thing. The women veterans, they dig being in the ring; they love all that crowd noise. The heels love drawing heat; the babyfaces enjoy the love they get from the crowd. It took a while from feeling that I was going to be consumed, to enjoying myself."
On being exploited by Moolah:
"When you're in your twenties, you can have these big shocking experiences that touch you and change the course of your life. I was terrified the first time I stepped into a ring. People kept telling me, 'Don't worry. Moolah will be there, and she'll be looking out for you.' I think she was there for me in the ring, but it was kind of the before and after. Her whole thing was making money, and she found a lot of different ways to do that, and most of them didn't benefit the women wrestlers who worked for her."
On Moolah trying to force her to sign a contract:
"I had a meeting with Moolah and Gorilla Monsoon, and he wanted me to sign this contract. My sister is a lawyer, and I knew you didn't sign a contract without getting someone to review it, but Moolah was pushing me hard. I said, 'I'll get it back to you as soon as I can, I just need somebody to look at it,' and trying not to make a big deal out of it, but they weren't too happy about that."
On finally making it to the WWE:
"And then from there, we drove up to Poughkeepsie, New York where they did all their television, so everybody was there: Hulk Hogan, Wendi Richter, and you're kinda behind the curtains waiting for your match. They were all reasonably friendly with me, and they all gave me these soft handshakes."
How being on Moolah's "bad side" affected someone's position with WWE:
"It wasn't a done deal that if you trained with Moolah, you wind up working with the WWF. There was one girl in the camp who'd been there for a year. She was on Moolah's bad side for some reason."
On difference between herself and women who stayed in the wrestling business longer:
"This was a career, something that they always wanted to do and felt really passionate about it, and there was nothing better than getting in a ring. To some degree, finding a job that paid as much as that would've been difficult for them. They were committed to this life and lifestyle. It's not just the risk of being injured in the ring, you're traveling, mostly by car, I mean this is when there were still territories. Road life, bad food, shitty cheap hotels, and you're away from friends and family. So it was not an easy life."
On if WWE took ownership of her character:
"No. They didn't then and never have. I never signed anything with them. I developed the persona, and I came up with the name. I was worried that Moolah was going to give me some terrible name, saddle me with something horrible that I'd have to live with."
On professional wrestling then and now:
"The women who trained with Donna/Moolah, they were like real wrestlers. There's certainly sex appeal that is part of the whole production, but you were not up there just to flash your tits and ass. You didn't wear skimpy outfits; you were a serious wrestler. You wanted to command respect as the men did, and you had to work hard to do that."
Thoughts on the WWE today:
"I think things became homogenized once WWF became WWE. The diversity you had with the many different territories and people competing against each other, went by the wayside. Certainly, WWE has great production values, and they sink a lot of money into it, but I'm glad I was able to witness and be part of the territories and take advantage of that."
On new book 'Chronicles of Mad Maxine and why she's referring to it as a novel and not an autobiography:
"It's a novel because I could not make myself write an autobiography or memoir. What I found was, when I was writing it, I was kind of…In the mid-'80s, kayfabe was still a thing. People were still paying a lot of attention to making sure people protected the business and didn't let on all the secrets and how things worked. That just got under my skin, and I took that seriously. The other reason was that I became friends with people I was training with, and I didn't feel comfortable outing or writing anything that would cast them in a bad light. So it was easier for me to try and capture the feeling of living in Camp Moolah but not the absolute details."
---
Click below to purchase "The Chronicles of Mad Maxine":
CLICK HERE
Follow Mad Maxine on social media for all the latest:
Twitter – Facebook – Instagram