Bianca Belair has opened up about her recent WWE main roster debut, as well as revealing what she sees for herself in the future.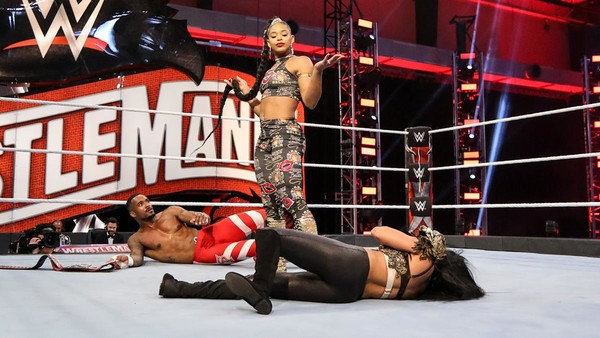 Belair made her main roster debut at the WrestleMania 36 event which was aired in April of this year. Whilst WrestleMania, WWE's marquee event, is usually a spectacular which has had up to 101,763 in attendance – this year zero fans were in attendance due to the global pandemic.
The "EST" of the WWE admits she wishes her main roster debut would have been in front of a crowd but has tried to see the positive side of things.
"You have to be honest to yourself, and say "Yes I would have rather done it in front of thousands of people I tried to see a positive in it. I started at the Performance Center. I came here not knowing anything, and the Performance Center was my home." Belair said during a recent chat with Metro UK.
"I actually met my husband at the Performance Center, so to be able to make my transition to Raw and debut at WrestleMania at the Performance Center alongside my husband, that's kind of the way that I looked at it to make the moment even more special to me." she continued.
Since making her main roster debut, Belair has remained out of the title picture and hasn't been the most frequently used superstar on TV. The 31-year-old knows her time is eventually coming and plans "to make the best of it" when it finally does.
"When I get a title opportunity, I'm going to make the best of it. I'm going all out! I'm on Raw, and that's all I can do. I'm going for every single opportunity that I get. I'm just ready to get going. Give me the spotlight and watch me shine!" she said.
Bianca Belair currently performs on WWE's RAW brand which airs live on the USA Network every Monday from 8pm EST.